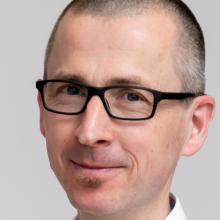 PhD
Sven Jonuscheit
Glasgow Caledonian University
Dr. Jonuscheid studied optometry in Berlin and Philadelphia and has several years of experience in working as an optometrist in the UK and in Germany. Following completion of a PhD in Vision Sciences in Glasgow and postdoctoral work, Sven joined the faculty at Glasgow Caledonian University as postgraduate course co-ordinator. He subsequently took up a full-time academic position as lecturer and MSc programme lead in Vision Sciences. In addition to his roles in Glasgow, Sven has gained experience as visiting academic in Germany, Norway and Spain.
Sven's research interests are related to cornea, visual impairment, eye care services, public health and health economics. His research is supported through funding from the College of Optometrists, the Chief Scientist Office of the Scottish Government and the Visual Research Trust.
Sven is a member of the College of Optometrists (UK) and the Vereinigung Deutscher Contactlinsenspezialisten und Optometristen (VDCO) as well as a Fellow of the Higher Education Academy (UK).